The President of the Republic of Serbia, Aleksandar Vučić, participated in the Summit of the Leaders of the European Union and the Western Balkans, at which a Declaration was adopted in which EU leaders give unequivocal support to the European perspective of the Western Balkans and reaffirm their commitment to the enlargement process based on "credible partner reforms", emphasizing the importance of "strengthening the integration and the capacity of absorbing new members" by the EU itself.

After the EU-Western Balkans Summit, President Vučić stated that there is a perspective of EU enlargement, but that not all member states have the "same appetite" for enlargement.
"On behalf of the Republic of Serbia, I am satisfied with the fact that the presidents and prime ministers of the EU countries talked to us for four hours about the future of the Western Balkans. On behalf of Serbia, I thanked for the help and support, investments and money that EU taxpayers invest in our country. We talked about the fact that there is a prospect of enlargement and it is clear that there are strategic interests of the EU in that European area", said President Vučić and added that there was a positive atmosphere at the Summit and that the host, the Prime Minister of the Republic of Slovenia, Janez Janša, has always fought for a clearer European perspective of the countries of the Western Balkans.
"It seems to me that we have presented ourselves in a good way with a responsible and serious policy, and I believe that in the coming period, we can improve our position in the EU", said President Vučić, adding that he had many bilateral talks: with Greek Prime Minister Kyriakos Mitsotakis, who said Athens would continue to support Serbia's territorial integrity, with the French president, the Hungarian prime minister, the Spanish prime minister, the Slovak prime minister, the Romanian president, the president of the European Council, Charles Michel, and with many other European leaders.
President Vučić stated that he also talked with the prime minister of the Republic of Croatia about the relations between our two countries, as well as with the prime ministers of the Republic of Albania and the Republic of Northern Macedonia, Edi Rama and Zoran Zaev.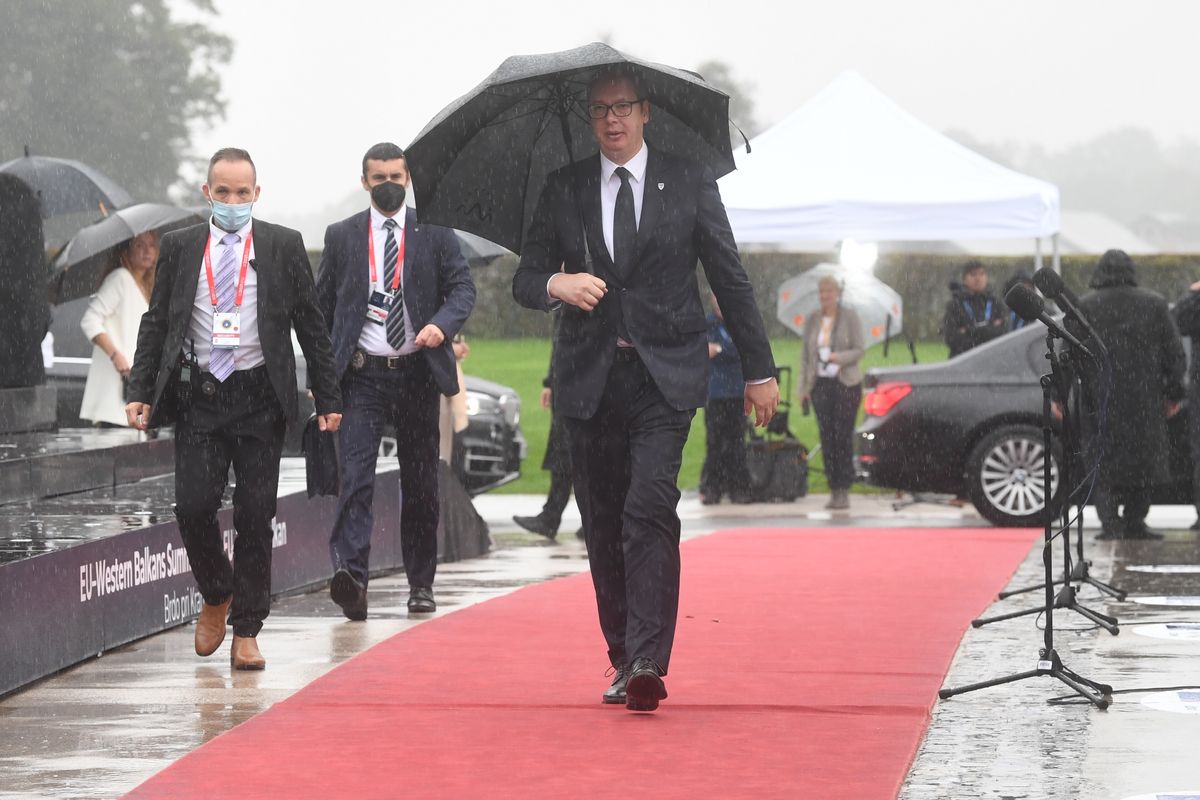 President Vučić paid a two-day visit to the Republic of Slovenia, where he attended the Summit of Heads of State and Government of the European People's Party on the first day and assessed that, after the loss of the German Christian Democratic Union in the elections, the strength of the European People's Party was concentrated in Central and Eastern Europe.
6 October 2021
Source: www.predsednik.rs / Photo: Dimitrije Goll