Prime Minister Ana Brnabic stated today that the representatives of the Western Balkan countries in Vienna agreed that everyone feels equally frustrated when it comes to European integration and the EU's attitude towards the countries of the region, adding that they failed to agree on other issues, such as the declaration and regional agreements.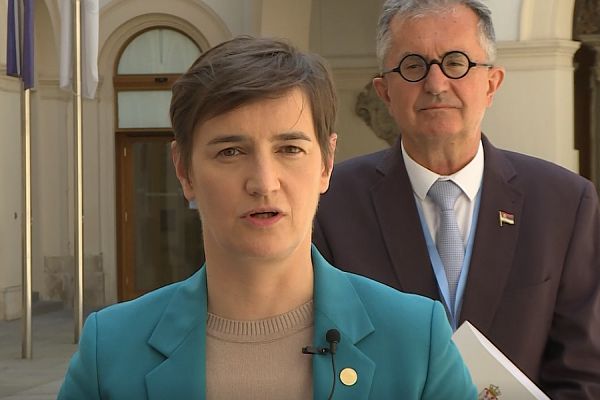 Brnabic told reporters in Vienna, where she participated in the Austria-Western Balkans Summit, organised by Austrian Chancellor Sebastian Kurz, that of all the problems that exist when it comes to European integration, the two biggest ones are the fact that there are EU member states that are absolutely against enlargements and the issue of setting new precedents.
According to her, it is a political game that will be counterproductive because people will get tired.
I think it would be more honest for those member states to say that there is no enlargement for them, but I do not believe that will happen, the Prime Minister emphasised.
The second problem, as she pointed out, is setting a precedent, and the latest is that members resolve bilateral issues using European integration.
When asked if there are joint declarations, Brnabic answered that they do not exist, unfortunately, and that the declaration of Chancellor Kurz and EU representative Miroslav Lajcak was accepted.
Until the last moment, we tried to find a compromise, Serbia agreed to many things, but somehow in the end, Kurti removed that declaration from the table, Brnabic explained.
She mentioned that this is a new reality and that it will not be easy, and added that she believes that now more and more partners in the EU understand how difficult it all is.
The Prime Minister explained that two completely different signals arrived from Pristina in just two days, and in that sense she stated that yesterday Vjosa Osmani allowed the adoption of much more serious documents, the Strategy for Southeast Europe, where "Kosovo" is mentioned, not only with an asterisk. but also with a footnote and referred to the Brussels Agreement, while today we have a different message.
Speaking in general about what was discussed during the Summit in Vienna, Brnabic said that it was challenging to talk about regional stability and hear something new, considering that they are meeting for the third time in a few days.
She expressed gratitude to Austrian Chancellor Sebastian Kurz for organizing the Summit, as well as for always openly showing commitment to the stability of the region, but also sincerely pushing the EU enlargement agenda.
18 June 2021
www.srbija.gov.rs